After having spent 1 week with David and Chelsie in Bangkok we were happy to head over the north for some nature and fresh air. Chelsie came with us in Chiang Mai and we kept going up the two of us towards the north, Pai and Chang Rai.
CHIANG MAI

Chiang Mai is known for being the best place in Thailand to get to know the local culture and be close to the nature. Surrounded by a ring of mountains, Chiang Mai has also around seven hundred year history. We knew we would not be bored in this beautiful region of Thailand as the city gave us right away the eager to visit it all! We had plenty of options of visits such as visiting the thousand of temples in and around the city, going nature trekking or visiting a hill tribe village. It is also possible to rent a motorbike and go discover the waterfalls nearby as well as the different farms such as orchids farms, butterfly farms ect which we did and will explain later in the article. We didn't do an elephants ride as it goes against or principles. Most of the time, elephants are not treated the way they should be in those big attractions parks. They hold elephants shows where they have to do some acrobatics performance or painting performance.. They are most of the time hit with a hook to be more docile and "educated". For us it doesn't make sense and in addition to this it is very expensive ! 60dollars half day in a park. According to our beliefs, elephants should stay in the nature with their family. We would be ok to see them from far in a wild park but that's all and this option was not offered. We decided then to go on a meditation retreat and take part on a cooking class which was a lot of fun! The related articles are linked here and here or found under articles.
So Juan, Chelsie and I rented a motorbike to go discover the area. We decided to go north west to see some waterfalls and different farms a long the way. At the first stop, we went to visit a bee farm. It was very spontaneous as it was not on our map. A old thai farmer made the honey culture his passion and we could see it and feel it. Despite the fact we knew already a bit of what is the apiculture about, it was great to interact with him, see the bees houses and eat delicious honey cookies. 🙂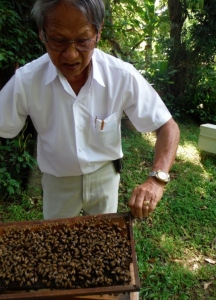 We then stopped in a insects and butterfly farm called Siam Insects Zoo. It was a great visit as we could see them in real or paintings, also the different species of insect and butterfly by region worldwide. It is actually a huge family !
The butterfly lives only 3 to 7 days on average. What a short life for such a beautiful animal as well as important for polinisation. In the process of feeding from flower to flower, butterflies become nature's most hardworking and efficient pollinators along with the bees. During the visit, we met the friendly staff that was there to show us different larves, coleopteras and other insects, explaining the life chain. We saw all kind of spiders alive as well.. We didn't stay that long in this sector of the museum and went directly to the garden. There we could see colorful beautiful butterflies. We felt like being in Alice in wonder lands !
After these 2 interesting visits we headed more north to finally arrive in the Doi Suthep Doi Pui national park. We were in the middle of a half forest half jungle with 10 waterfalls to see and swim in! It was so refreshing to be able to sit by the river and go swim in the fresh water. Chelsie and I found a giant fall and went swim under it, we could also go behind. It was so much fun ! We would recommend anyone going to Chiang Mai to go visit this park.
There are also attractions in the city that we did and we recommend as well which are:
– The 3D Illusion Art Museum: The exhibition contains amazing 3D painting technics.
– The temple Wat Chedi Luand which is beautiful with monks all around. We cannot talk to them and touch them (obviously) but it is still very nice to see them with their orange outfits !
– The Night Bazaar with all kind of shops and street food. At certain time we can see Muay Thai shows and Thai dance shows
– The restaurant Lemon Grass was worth the visit as we had the best Thai food there, so delicious and cheap!
PAI
We knew about Pai thanks to our friend Jasper met in Vietnam. He told us "go to Pai, it is a great place". So well here we are 🙂
Pai is a small village located approx 130km from Chiang Mai. It is well-known among backpackers for its relaxed atmosphere, cheap guesthouses as well as beautiful nature all around. It took us about three hours from Chiang Mai to reach the village due to the narrow roads. It costs only 6 dollars the way by mini-van.
As soon as we got there we could feel the relaxing atmosphere the city has to offer. There are basically 3 main streets full of cafés, shops and amazing street food. The town has also a western influence mixed with the Thai culture. After 1 relaxing day in the village we could not wait to go visit the area including its famous waterfalls and natural hot springs! So here is our motorbike tour in 6 hours and 6 stops 🙂
1) The Memorial Bridge:
We passed through it. It has some historical links wit Japan. Built by Japanese soldiers during WWII, it is actually a good spot to take wonderful pictures
2) The Cafe in Love
This is a cute coffee place by the road going to the hot springs. They cultivate coffee and the restaurant offers a stunning view on the valley.
3) The Pai Hot Springs: Our favorite place in Pai!
Across the Mae Nam Pai and 7km southeast of town, natural water is boiled given to the place natural swimming pools with different bathing areas from 40 degrees Celsius to 80 degrees! Sometimes people brings eggs to be cooked on spot but at 11am in the morning we didn't feel like eating eggs..! It was anyway a great place to relax. Furthermore, Sulfur is a mineral naturally occurring near hot springs, that has good benefits for the skin and health.
4) Pai Canyon:
It's not quite the Grand Canyon but it's beautiful all the same. The view was magical and it is apparently an awesome place for sunset.
We have to go back !
5) Pam Bok waterfall
Thailand has many waterfalls which we love to visit and swim. We didn't want to miss them and went to the Pam Bok Waterfall which is very closed to the hot springs. There are 2 others famous waterfalls in the region which we didn't do. Nevertheless the Pam Bok waterfall is worth the visit as we can swim in it and cool down for a bit. We loved it !
6)The Strawberry Farm
It is also located along the way on the southeast road. People cultivate strawberries and give the opportunity to visitors to have a look at the farm and taste the delicious strawberries. We had a smoothie which was insanely good!
Back to the hotel, we took a cold shower and relax for a while before going to eat in town. Pai at night is a great place for listening to live music and eating good food in the many different restaurants available on main streets. Since we have arrived in Thailand, the food has been a highlight for us during our trip. The country offers amazing and healthy food combining different spices and flavor. Between the Padthai, yellow curry soup, fried rice and Thom yam soups, we are driven by the great taste that the Thai food offers us. Don't miss our article on the cooking class here 🙂
CHIANG RAI
We are now leaving Chiang Rai, the last city we have visited in north Thailand. It is about 180km from Chiang Mai and is seen more as the gateway to the Golden Triangle than anything else. We were a little disappointed by the city as we thought to find a little Chiang Mai number two but it has appeared to be more like a Chiang Mai minus two..
It is a laid-back alternative to Chiang Mai. Things are on a smaller scale, from the night market, restaurants to the amount of sites to see, but the city has a more relaxed atmosphere, less pollution, and its trekking areas are easy to get to. Even though Chiang Rai has its own character and attractions, like the unique, sparkling White Wat Rong Khun temple, just outside the city or the beautiful Singha Park owned by the beer company. The nearby area has also a beautiful waterfall called Tak Mork located in the Khun Korn forest park. It is very easy to visit those attractions on motorbike. 1 full day in Chiang Rai would be sufficient unless a day trip to the Golden Triangle would be organized.
The Golden Triangle is not too far from Chiang Rai, just 2 hours drive. We wanted to go there but the prices on tours or taxi driver were to high. We didn't see ourselves driving a motorbike for that long in 1 day either. However a visit to the border is highly advise by tripadvisor or other guide books. Maybe we have missed something big?