Good bye Cambodia, Hello Thailand!
After having spent 1 month in Cambodia, we are now in Bangkok, the capital of Thailand. We have just spent a 1 week in this megapole. We would not have stayed that long but Juan's friends, David and Chelsie, are living here now and it was the best occasion to spend time with them. We arrived from Siem Reap to Bangkok by airplane. Maybe we were too lazy to go on a 10 hours bus ride but the flight was not too expensive, so we did it!
As we got there, we could feel already the pulse of the city, warm and busy, Bangkok seems to be one of these cities that never sleeps. You hear so much about it but you need some days to understand what Bangkok is. It is not easy to travel around as highways literally cross the city, spread out in many different districts. At first, we didnt like it. It is busy, smelly in some places, crowed and crazy in a sense by all these bars and prostitution. Everything goes fast, you have to be concentrated not to be ripped off or end up in the ping pong show, or lamest terms sex show. It is the part of Bangkok we didn't like. It takes time to love Bangkok.
However being with David and Cheslie for a week in this city made us in the end have great souvenirs. We have been warmly welcomed in their house, having good food and a comfy bed, we could not asked for more. We were so happy to be there with them, feeling like home ! To feel home away from home is something very special and appreciated specially during a 10 months world trip. After having talked about our experiences in Asia and their experience in the city, we decided to go visit it the day after.
There are some highlights in Bangkok not to miss that we were excited to go visit:
Floating markets: They are all around the city from 1 hour away to 3 hours. It takes some time to get to them and can be pricey but it is worth the visit. We went to a market (not floating) by the river and it looked very similar to a floating market. (We forgot the name!)
Anyway the atmosphere was there! We could smell the fresh fish and local food, buy souvenirs, try some sugary deserts, smell flowers, drink coconuts, hear some nice Thai music, talk to local people.. Well, by the floating markets you can feel the Thai vibe. Don't miss it!
To enjoy the atmosphere without haggling over prices, we would advise to relax on a guided boat tour of Damnoen Saduak market. Floating markets are Taling Chan Market, Bang Ku Wiang Market, Tha Kha, and Damnoen Saduak. For more info on where and when to visit them, click here .

The laying Buddha (Wat Pho).
Wat Pho has been recommended by my dad to visit. He told me "go there to make a wish ". It is actually an amazing place to visit. The site contains different temples including the laying Buddha. It's one of the largest temple complexes in the city and famed for its giant reclining Buddha that measures 46 meters long and is covered in gold leaves. It is really impressive to see and the atmosphere inside the temple is something like no other. We were surrounded by people but we could feel to peacefulness all around the place.
The entrance to the temple costs 100 baht and you can visit any time between 08:00 and 17:00.
Chatuchak weekend market
We wanted to eat something local and be able to buy some goodies in a market. We have not been disappointed as Chatuchak market has it all. The 35 acre area of Chatuchak is home to more than 8,000 market stalls. From clothes to art or decoration, shopaholics will be in paradise! If you have in the future one weekend in Bangkok, squeeze in a day trip to Chatuchak!
The Golden Mount (Wat Saket)
We enjoyed a lot this visit and it is a small little island of peace in the middle of the city. The Golden Mount has typical Buddhist sculptures along the way up to the top. The view from the roof is nice and allow visitors to pray and admire the Buddha relics and the golden bell. The visit is free of charge.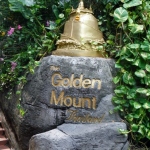 China town
Well, China Town is China Town.. There is not much to say else ! Street -food, mess, crowd, traffic, shops and shopping. China town is always nice to visit to feel the chinese frenzy. We personally would not spend more that an afternoon there but of course this is personal.
Otherwise, Bangkok has been a great spot to relax with our friends and share some good mojitos and foot massages ! Not surprisingly, Bangkok could be called the meek of foot and body massages at a very low price. The food is good and diversified. From cheap to expensive, everything can be found. The same for shopping!
We will then head to Chiang Mai, peaceful and beautiful city in the north of Thailand. We will certainly do a meditation retreat there. We look forward to sharing all that with you soon 🙂
Useful information:
The taxi drivers, tuk-tuks or whatever is called will try to rip you off. Always! Never trust them and make sure to have to counter on in the car.
Sky trains are available in the city. There are 2 lines (called BTS):
Silom Line runs west to south, between the National Stadium in the Siam shopping area to Wongwian Yai in Thonburi (across the river), while
Sukhumvit Line runs north to east from Mo Chit to Bearing. The two lines meet at Siam Station, and also interconnect at two points with the underground (MRT) – at Sala Daeng and Asok stations. A train arrives every 3 – 6 minutes or so between 06:30 and midnight. The last train leaves between 23:30 and 23:50. Fares start at 15 baht for one stop.
Don't believe in people saying that some attractions (such as temples) are closed during lunch time. This is most of the time not true. (They want you to stop by their shops or restaurants while the museum reopen..)
Try not to fit too much in one day visit and the traffic is insane. It can take a while to reach certain point of the city specially in the center.